Greeting from the owner
Kyoto cuisine Daitoryo has a rich history of 70 years since its establishment and a building that has been standing for over 140 years. Our guests enjoy yuba kaiseki courses all throughout the year, as well as the seasonal delicacy hamo (conger pike) kaiseki courses during the summer. In recent years, we have a seen a truly great number of foreign tourists visiting Ponto-cho and the Kamo River, with Daitoryo's outside wall becoming a popular Instagram spot to take pictures at. I myself am a certified guide-interpreter and it is my pleasure to converse about Kyoto's history and culture and give advice on its sightseeing, if time allows. Please visit Daitoryo for a relaxing time of dining in Kyoto.
About the Cuisine
As a historic establishment of Kyoto kaiseki cuisine in Ponto-cho, Kyoto, it is our pride to serve authentic yuba cuisine which abundantly uses ingredients local to Kyoto. While it goes without saying that seasonal ingredients are used in dishes such as the sakizuke and hassun (seasonal appetizers), all our yuba dishes are also prepared to suit the current season and can be enjoyed all throughout the year. The hamo (conger pike) used in our courses, a delicacy during the summer season, are those strictly selected with thick meat and plenty of fat which gives it an amazingly soft texture. The hamo is served in a variety of delicious dishes, such as yolk sauce grilled hamo, hamo tempura, simmered hamo with Kyoto vegetables, and vinegared hamo skin. Our exceptionally thick hamo sushi is also an extremely popular dish.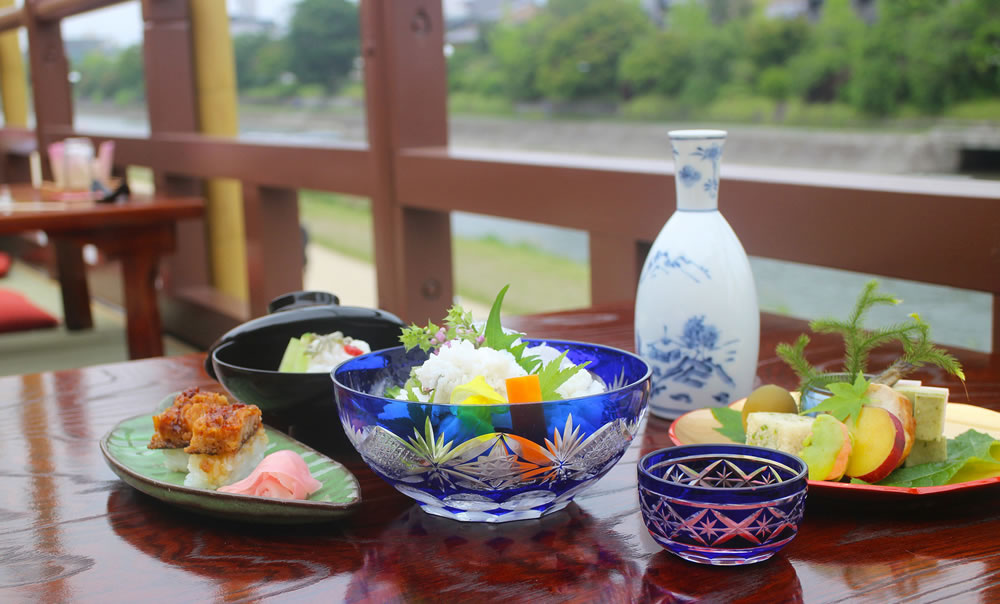 Accepting First-Time Guests
There are many restaurants in Kyoto that only accept regular guests or guests who come with an introduction, as these long-estabished restaurants mainly operate by serving a clientele of regular customers. Daitoryo is also a restaurant with a building built over 100 years ago. While first-time guests were refused service on the time of its establishment, Daitoryo opened its doors to the public from the time of the predecessing owner and now welcomes one and all. Daitoryo's red walls that melt into the vivid townscape of Ponto-cho's dining district are hard to miss once you step foot into one of the many cobblestone alleyways. Please come and enjoy a true dining experience in a historic and authentic Kyoto atmosphere.